7

Sep, 2015

Bing webmaster tools
Bing is a web search engine launched by Microsoft in June 1, 2009. Like Google Webmaster Tool Bing also have Bing Webmaster Tools. Bing Webmaster Tools provides free service for managing your site using Bing. For managing site using Bing or for Bing webmaster verification we should have a Microsoft account just go and signup. After creating account then we have to add our website or blogger to Bing webmaster tools.
Adding a Site:
• Login to Bing Webmaster Tools
Add our website to Bing Webmaster Tools by entering the URL of our site and click the add button then adding our sitemap address.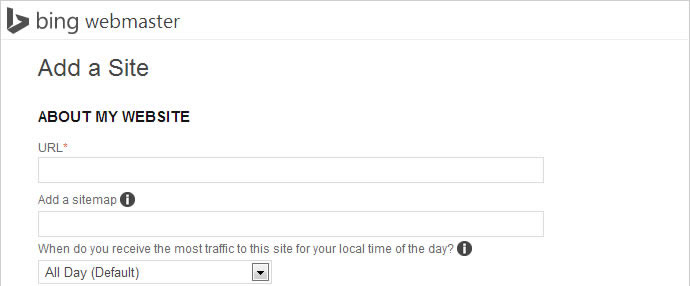 • Verify Ownership
In this step verifying the ownership means verify that you are the owner of the website. Mainly 3 kinds of methods to verify the ownership.
Option 1: XML file authentication
Option 2: Meta tag authentication
Option 3: Add a CNAME record to DNS
Here we use the 2nd option that means Meta tag authentication. Copy the displayed meta tag and go to our registered sites homepage then click tools and sub menu available tools then open a window and then paste the meta tag to appropriate Bing webmaster tool input box. Then click the verify button. If Bing Webmaster Tools verity our site then we can see the green check mark. Otherwise we can see a red check mark.
Adding a Blogger:
We can also add Blogger to Bing Webmaster Tools. Here also the same process of website.1st sign in our Microsoft account then entering the URL of our blogger and add site map also. Then verify the ownership by using any of the 3 options. Here we also copy the Meta tag and open our blogger and go to layout menu then we can see the HTML edit box .click that box and paste the Meta tag before closing head tag. Save that HTML section and click the verify button. After the verification we can see our site and blogger in the Bing dashboard.
                                                                                                                Neethu P K