Search Engine Optimization – SEO Service provider
SEOZooms is a Kochi based SEO Company offering high quality search engine optimization services for business websites. Dedication & experience our team makes SEOZooms as best SEO service provider in Kochi & Ernakulam location.  We have best team to deliver great results and ranking for your website. Please go through following points and you can grab enough knowledge on where we are expertise.
What SEO Service SEOZooms Provides
We provide white hat ethical SEO practices for our clients. We have added our satisfied clients list in our website, who are very happy with our services and got benefited. Our service includes on page and off page optimization practices, SEO consultation services, recovery services such as Panda, Penguin recovery services. We provide local SEO optimization, dedicated services for shopping websites, seo branding and reputation management services.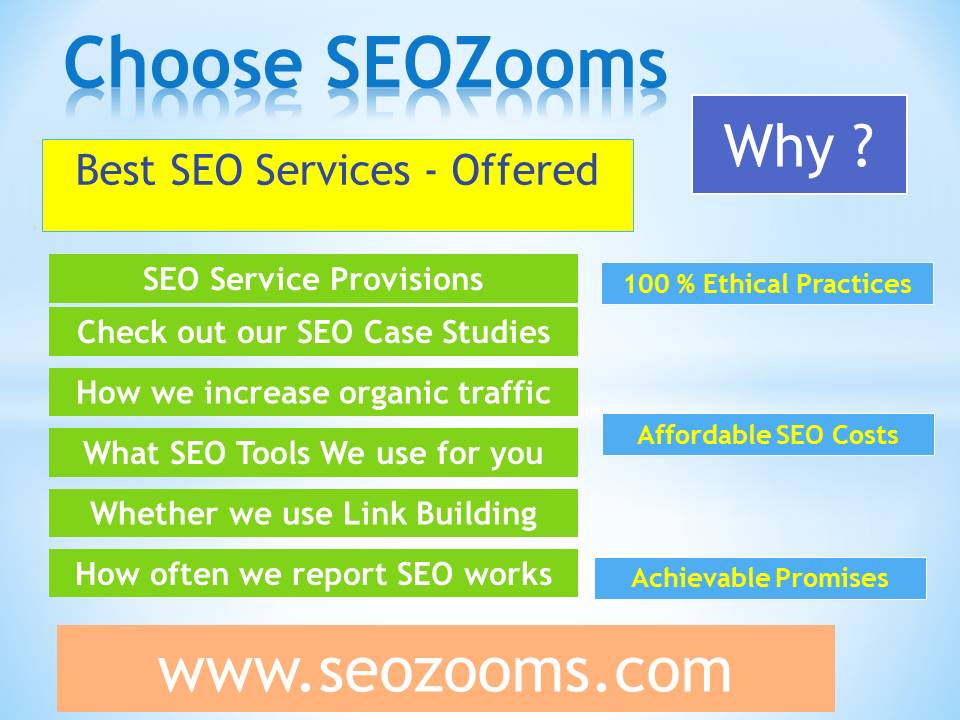 SEO Case studies with work action
SEOZooms have highly satisfied clients. You can read SEO case studies published with our website. You can go through our SEO case studies and understand what sort of SEO work action we have developed for the firm and how it improved their online visibility, search engine ranking and  business growth. If you can go through the SEO case study details published, it will demonstrate our seo work of action & strategies developed.
How we will increase your organic Traffic
SEOZooms follows ethical SEO practices allowed by search engine guidelines. Our expert team will conduct an analysis on your website. Then we will conduct detailed keyword research, find relevant, potential keywords for your business. Once the keywords are identified, will discussed with decision makers of client company. After finalizing the keywords, our seo team will conduct effective on page optimization, relevant editions in URL, contents, addition of ingredients for proper visibility while Google bots crawl the pages.
SEO Tools We Use
SEOZooms follows only ethical SEO practice for our clients. So we dot use any automation in our practice. Generally our team uses allowed SEO Tools to analyze, monitor visibility, relevant queries & impressions,  improvements in search engine ranking, nature of visits, bounce rate, CTR rates, benchmarks, exit rates etc.
Whether we do Link Building
Google and other search engines has changed lot of things in their algorithms. Our SEO team conduct on page off page seo activities in a responsible way. So develop special strategies for our clients to get reputations, back links & social mentions in natural way. So we do not build links in non ethical manner. But we adopt many resources of content marketing to get Back Links in natural way. We spread the value added messages and thoughts to generate maximum social mentions and authority value improvements.
How often we will report our SEO Works
We have different work report methods for different SEO package subscribers. It includes weekly & monthly work reports included with search engine ranking positions, PDF documents with number of traffic, nature of traffic, location, search engine keywords, audience overview etc. Monthly work report will include the work volume, details like posts, articles, social media interactions generated etc. And it will include a detailed progress report on improvements in page authority, domain authority, traffic ranking search engine ranking improvements etc.
Client Can Track the Changes We Made in the Website
We keep our SEO works in a transparent way. So we report each and every changes made in our client website through spreadsheets. Our team will be communicating with concerned persons of company regarding the SEO modifications and changes we made in our client websites.
What we promise with our SEO Services
As an ethical seo service provider, SEOZooms can promise, improvements in your search engine visibility, increase in organic traffic, number of inquiries, conversion, business deals & growth.
What is our Payment Structure
Our payment structure is purely based on volume of works, nature of keywords & website projects. Our SEO expert team will conduct a detailed analysis on the project website, will conduct a detailed research on nature of business, then only payment details will be proposed. Because there are many things to be checked as we depends on only ethical practices. If the keyword suggested by client is very difficult, or its visible websites are have high authority values, we have to develop separate SEO work strategy and plan, so if a project need more work volume for its search ranking, its payment structure and SEO charges may be more. Normally we have budget SEO packages. That means you can buy SEO services from SEOZooms on affordable manner comparatively.
Just call 9020807078 for optimizing your website or blog
or drop an email to seozooms@gmail.com
Save