23

Nov, 2022
In today's digital world, brands who overlook the power and reach of social media . This marketing is missing out on a critical social media channels for business for connecting with customers.
People should identify the best social media channels for business development. Social media offers marketers improved lead generation benefits. It is properly executed social media plan may boost website traffic, boost search engine ranks, and boost conversion rates.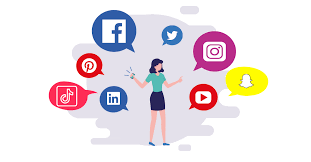 But how can you create a social media plan that works when you're not sure which platforms to use?
Social media platforms can seem overwhelming with so many options available to your company.
How to choose your social media platforms?
Let choose the best social media channels for business development based on the most crucial considerations using a the following key points:
One of the most effective ways to broaden reach and raise brand awareness is through paid promotion. Learn the different social media advertising options you have, including Facebook ads.
A crucial tool for marketers seeking to produce high-quality leads is social media. Utilising customised advertising, you may draw in potential customers who can grow in your funnel and convert. When it comes to social media lead creation, LinkedIn is famous for being a leader. This is true whether you're joining groups or making targeted ads, etc. Aside from being very effective, Facebook and Twitter ads frequently have a lower CPC than an AdWords campaign!
Once your objectives and social media channel choice are in line, you should think about where your audience is actively communicating. There are various tools that may be used to examine your current following. This will give you information about the gender, age, and geography of the people who make up your present social audiences. It enabling you to decide which channels are worth keeping active and which ones aren't.
Analysing the social media platforms where your competitors are present is equally crucial. This will give you a starting point from which to measure market activity and inform your choices.
Twitter account that you use for work is a great places to interact with other professionals. And it share content related to your particular field.
If you want to know about the Things You Can't Ignore About WhatsApp Business in 2022 click here.