21

Aug, 2023
In the vast landscape of the internet, where millions of websites compete for attention, Search Engine Optimization (SEO) stands as a guiding light for businesses seeking to make their mark. SEO, an acronym for Search Engine Optimization, is a dynamic and multifaceted technique of digital marketing aimed at elevating a website's visibility on search engine result pages. This comprehensive guide will unravel the essence of SEO, its significance, and the intricate web of on-page and off-page optimization techniques for Online Success.
Why
Embrace

SEO?

Businesses need a strong online presence to thrive and connect with their target audiences in the digital age. SEO serves as the conduit between businesses and their potential customers. In a world where billions of searches are conducted daily, harnessing the power of SEO is crucial for the following reasons:
Increase Online Visibility: Elevating your website's rank on search engine results pages (SERPs) enhances online visibility, making it more likely for users to discover your website. The coveted first-page ranking can set you apart from the competition and drive organic traffic to your site.

Lead Generation: SEO not only brings visitors to your website but also turns them into potential leads. By crafting compelling content and optimizing it with the right keywords, you can attract users who are actively seeking your products or services.

Adapting to Evolving Customers: Modern customers are more informed and discerning than ever before. They rely on online research to make purchasing decisions. A well-optimized website provides the initial impression and information that customers seek before engaging with a business.
On-Page Optimization Strategies:(Techniques for Online Success)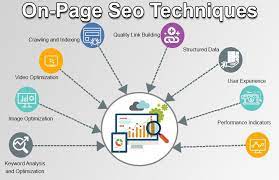 User-Centric Approach: Align your website's design and content with user preferences and behaviors. A responsive website that caters to both mobile and desktop users ensures a seamless experience.

Quality Over Quantity: Prioritize quality content over keyword stuffing. Concise, informative, and engaging content resonates with users and search engines alike.

Leverage Technological Features: Incorporate modern features like voice search and intuitive communication tools to enhance user experience and increase engagement.

Constant Improvement: Stay updated with the latest SEO techniques and market trends. Consistently posting valuable and relevant content keeps users engaged and returning to your website.

Optimize Page Elements:

Create an eye-catching and relevant title that includes your focus keyword.

Craft informative and unique meta descriptions with targeted keywords.

Use alt tags for images to improve accessibility and search engine ranking.

Craft search-engine-friendly URLs with relevant keywords.

Keyword Density: Utilize keywords naturally within your content while maintaining a balance between optimization and readability.
Off-Page Optimization Strategies:(Techniques for Online Success)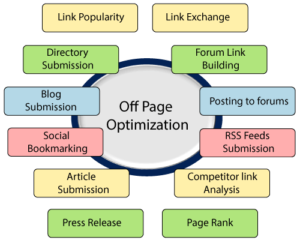 Quality Backlinks: Focus on building high-quality backlinks rather than sheer quantity. These links from reputable sources enhance your website's authority and visibility.

Online Directories: List your website on popular online directories to increase your online presence and facilitate easy discovery by potential customers.

Social Media Engagement: Interact with users on social media platforms to boost website traffic and strengthen customer relationships. Increased engagement can lead to improved search result rankings.

Affiliate Marketing: Collaborate with related businesses to promote your website through strategic partnerships, tapping into their audience to expand your reach.

Forum Participation: Engage in forums relevant to your niche, building relationships and subtly promoting your website through informative and valuable contributions.

Social Bookmarking: Submit your content to social bookmarking sites to enhance your website's visibility and attract new visitors.

Link Baiting: Create exceptional and shareable content that compels other websites to link back to your pages, boosting your online presence and credibility.

Article Submissions: Share your expertise through article submission platforms to drive traffic and establish yourself as an authority in your field.

Answering Questions: Participate in Q&A platforms, offering valuable insights and leaving links to your website where relevant.

Business Reviews: Encourage satisfied customers to leave reviews about your business on platforms that matter to your audience.
In the digital realm, SEO is the cornerstone of online success. Its intricate interplay of on-page and off-page optimization strategies empowers businesses to enhance their visibility, connect with their target audience, and thrive in an ever-evolving digital landscape. By understanding the nuances of SEO and implementing the latest techniques, businesses can position themselves for growth, profitability, and lasting impact. Remember, the key to successful SEO lies in understanding and catering to the needs of your customers, ensuring that your website becomes a valuable and unforgettable asset in their online journey.